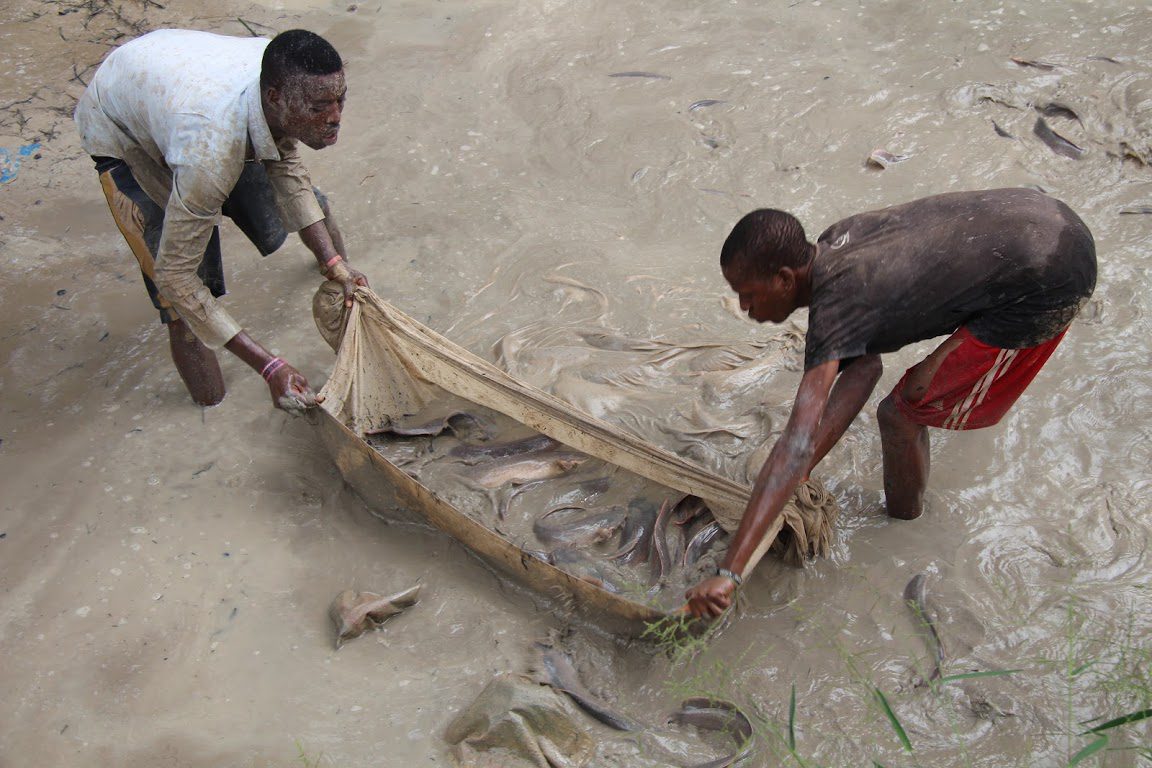 PIND through its Appropriate Technology Enabled Development (ATED) program is partnering with Lagos-based ICT innovation center Wennovation Hub, as well as e-TriLabs and Woelab (ICT innovation centres in Benin and Togo respectively) on the Youth-Enabled Fish Farming AgriHack (YEFFA) project, which aims to support ICT innovations and entrepreneurship in agriculture by youth. Also dubbed AgriHack West Africa, YEFFA's call for developers will extend to April 25th, ahead of the hackathon in four participating cities in West Africa, namely Cotonou, Ibadan, Lome and Warri on May 13th, 2016. These events will identify specific issues affecting the aquaculture sector, so as to guide prospective participants to develop truly viable fish farming ICT solutions. Participating national and regional stakeholders will include fish farmers, fish wholesalers and retailers, harvested-fish and fish-feeds processors, support organisations, academics and policy makers.
The team is currently hearing from interested developers and preparing for the main event in May. We caught up with our Program Coordinator on Value Chain Appropriate Technologies Dr. Nabeel Adeyemi on his work with Wennovations Hub on AgriHack, how technology can improve agriculture, and his expectations from this program.
When did you first hear of this AgriHack idea?
I first heard of it from Wennovation Hub. Eniola Mafe of NDPI connected Wennovation to PIND in July 2014 through Michael Oluwagbemi in our bid to get actors interested in appropriate technologies (ATs). Wennovation presented some of their products (setting up start-ups) and the discussion went into possible partnership into the value chain. We shared our value chain results with them, and they subsequently used these to formulate the AgriHack proposal.
Why the focus on aquaculture for the AgriHack?
In the Niger Delta, Aquaculture is one of the sectors with the highest potential to address poverty and economic growth. It contributes to the supply-base at 20% or 152,796 metric tons, mainly from pond culture. With  the  decline  in  capture  fisheries,  aquaculture is meeting  only  about  7.6%  of  the  country's  current  estimated fish demand of 2 million metric tons (annual).
PIND's aquaculture intervention since 2012 to date identified and addressed issues of best practice, access to market and linkage between actors among other, leading to improved productivity along the value chain. From these results, AgriHack is leveraging on existing infrastructure and successes to bring in youths that otherwise wouldn't be interested in agriculture and also bridge the knowledge gap using ICT related activities.
Do you think there is enough mainstreaming of technology in agriculture in Africa generally? How does Nigeria compare with the rest of the continent?
The small holder famers constituting about 70% in our agricultural production still do a lot of manual labour. Enough isn't being done in mainstreaming technology in agriculture in Africa, especially appropriate technology. This is obvious for instance where farmers don't have access to simple land tillage equipment, oil palm processors still press oil palm fruits in 'boats' with their feet or climb 20-30 feet palm trees to harvest fruits. The comparison is skewed within the continent and across the agric sector. However the opportunities for mainstreaming of these technologies are everywhere.
It is perhaps more obvious where things like tractors and more efficient processing technologies like the mechanical adjustable harvester come in with regards agriculture, but how do mobile applications come in? How can they help improve agricultural outcomes?
Mobile applications aren't a solution in themselves, but as a part of a series of support mechanisms to enhance information dissemination, networking and learning, mobile application has been shown to improve agricultural outcomes.  Mobile applications come with their own infrastructural challenges, but they are increasingly changing how people conduct business and in agriculture the opportunities are many.
Why is this project focusing on small-scale fishing?
Small-scale  fish-farming  or  artisanal  fisheries  make  up  about  80%  of  the  fisheries  sector, supplying  roughly  82%  of  the  country's  domestic  fish  production. The  fisheries  industry  further  supports  almost  7  million  people  (directly  and  indirectly),  and  contributes  to  the  livelihood, employment,  and  household  food  security  of,  especially,  Nigeria's  coastal  communities,  including  the  Niger  Delta.
How many people are you expecting, and from where will they be coming?
We are expecting idea submissions from infinite number of teams. Each team must consist of no more than three members. An ideal team would bring an academia (Lecturer or research student in aquaculture), mobile app developer(s) and a fish farming value chain expert.
What are you expecting will be the outcome of AgriHack?
From all the hackathons taking place in Warri, Lome, Cotonou and Ibadan, we are hoping to see the start of ICT for agriculture business ventures and prototypes. We hope to train up to 60 youth on aquaculture-related businesses and sensitize 120 aquaculture stakeholders on technology use. We hope this will lead to the creation of jobs as well.
What will happen after AgriHack to promote the new innovations?
There will be a hackathon Immersion and bootcamp program for shortlisted ideas in each location to select 25 ideas across 5 locations. Then a 5-weeks pre-incubation and further product development of top 8 ideas across all 5 locations, followed by 1 week of pre-incubation round up and showcase to select location winners for seed funding. The project closes with a 4.5 months of incubation and support at locations.