Our Poultry Linkages Project was designed to provide implementation support to the poultry value chain which will increase local producers' competitiveness and enable local processors of poultry upgrade meat quality and capacity to increase supply to sophisticated end markets.
Objectives include:
To facilitate the setting up of modern chicken processing plants and development of out-growers schemes and linkages to institutional broiler buyers leading to job creation and economic development in the Niger Delta
To layout a model/ evidence to engage large private and public sector players, for how a concerted effort, working with the right local businesses, can lead to substantial changes in the composition of local suppliers and SMEs leading to broader economic development
To increase private investment in integrated broiler production and processing facilities
To improve local chick supply and procurement from local suppliers thereby controlling import
To improve market access and gains in farm productivity
We conducted an analysis of the poultry value chain which revealed that 35 million USD worth of chicken is consumed yearly by the oil and gas companies operating in the Niger Delta, and a further 45 million USD by fast foods operating in the region. Vast majority of the demand for chicken is met from outside the region as local processors lack the capacity to meet the quality requirements of both the oil and gas catering companies and fast foods chains. By getting more of their chicken from local sources, catering and fast food companies can save immensely on transportation and other costs, while supporting the local economy.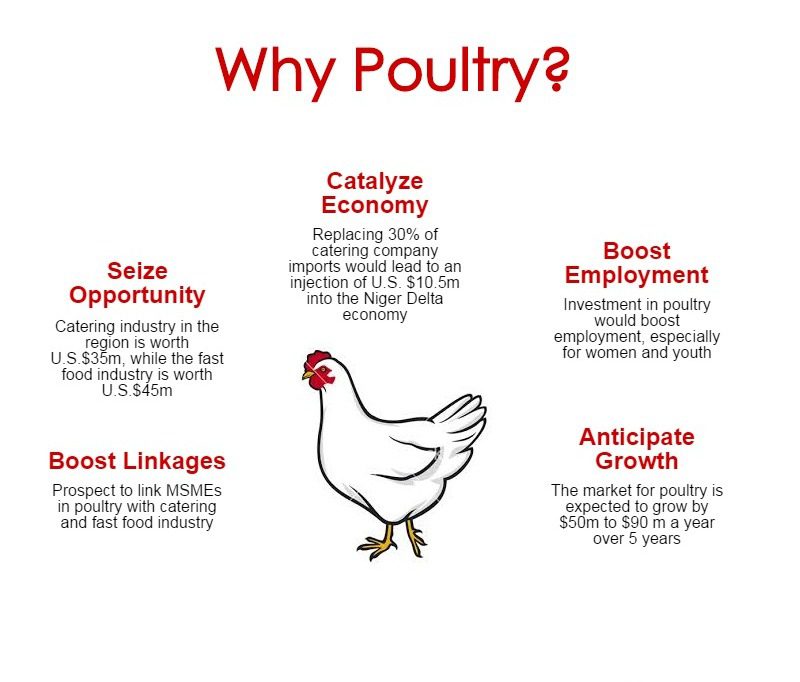 To address the capacity gaps in poultry production and processing, we fostered linkages between key actors in the industry – 93 poultry outgrowers from Poultry Association of Nigeria (PAN) and Ondo State Government Wealth Creation Agency who come from all six zones in the state and have capacity of producing 264,950 birds; the Nigerian Content Development and Monitoring Board (NCMB) offices based in the region responsible for helping secure funding and linkages to other catering companies; and Perfect Works Limited, who will buy outgrowers' chicken, process at the new plant and sell. We were also able to secure the required funding from the Nigerian Local Content Monitoring Board and Chevron Nigeria Limited contractor, Perfect Works Limited to set up a poultry processing facility in Ondo State. This facility, which is currently under construction, will help process chicken meat for the commercial poultry market in the region and enable the poultry farmers to take advantage of the  80 million USD market for chicken in the Niger Delta.
Project Details
Project Area:
Program Area:
Economic Development

Value Chains Development