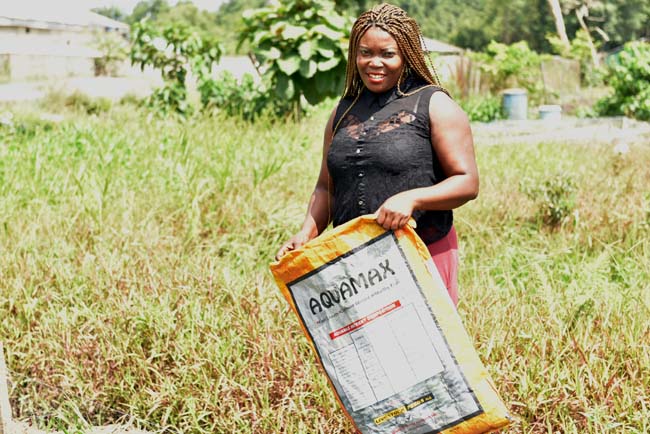 After completing her youth service, Akamune Ogheneobukome Rhoda found herself facing unemployment. She had considered different employment opportunities, but  none  seemed  profitable. Just a year later, however, Rhoda owned a successful fish farming business. She credits PIND for inspiring her success. Rhoda's story demonstrates the opportunities that aquaculture provides for young people in Nigeria.
Rhoda's journey started with PIND's CAPABLE training where she learned leadership, strategic management, entrepreneurship, and computer skills. Through the training, Rhoda met local leaders who had overcome constraints in their own lives. "One of those speaking at the training was Josephine from the UUFFA. That was when I became interested in aquaculture," Rhoda recalled.
DETERMINATION FOR SUCCESS
Rhoda was assigned to Josephine for further mentoring. Everyday Rhoda visited UUFFA where she asked many questions and learned to care for fish. Aquaculture inspired Rhoda and she soon began planning  how  she  could  acquire  her own pond. By saving up, she became a registered member of the fish association and received a new pond. Rhoda made little income from her first harvest, but she persisted. While she was enthusiastic about her new business, her family was skeptical. When her parents came to the ponds and witnessed her determination for themselves, they changed their minds. "People see me differently now, even my father," Rhoda remarked, whose father did not initially support her endeavours, but is now providing her with financial support.
TAKING RISK
Owning and running a business comes with many lessons and challenges; one being financing. "A good leader takes risks," Rhoda recounted from her leadership training. She decided to take out a loan to move her project forward.  The  loan and support from her family became the foundation for Rhoda's business to grow and allowed her to sell fish at a premium price.
Rhoda currently shares her profits and training with other youths from her home village. Rhoda's success in aquaculture has brought her  newfound  confidence.  She is now seeking out additional markets for her three ponds.
Click here to learn more about Fish Framing
"I would love to buy land near my village. Then, I can create jobs for young people…" – RHODA